I really like participating in various Bookish Challenges. I participated in a few this year and really had fun doing it, even if I didn't reach my goals.
So here are the challenges that I am signing up for this year!
(To keep up with my progress throughout the year, you can find links and updates on my CHALLENGES page!)
2015 Goodreads Book Challenge
To introduce readers to this year's wonderful group of debut authors.

To challenge readers to read 12 or more middle grade, young adult, and new adult debuts this year.
For all the guidelines and information check out the signup page
HERE
!
If you're new to the TBR Pile Reading Challenge, here is the deal: We all have those books. We buy them, win them, they're gifted to us. Then we put them up on a bookshelf and there they stay, collecting dust, waiting for the time when we'll finally decide to pick them up.




Join us on a quest to dust off your TBR Pile and read all the books you've been telling yourself you'll read next time you'll get a chance. This is your chance!
My Goal:
21-30 First Kiss
I do have a ton of books on my shelves that I have been meaning to read.
Some of the Books on my TBR Pile:
A Great and Terrible Beauty by Libba Bray
Rebel Angels by Libba Bray
The Unbecoming of Mara Dyer by Michelle Hodkin
The Evolution of Mara Dyer by Michelle Hodkin
The Retribution of Mara Dyer by Michelle Hodkin
The Secret Diamond Sisters by Michelle Madow
The Karma Club by Jessica Brody
52 Reasons to Hate My Father by Jessica Brody
Life Undecided by Jessica Brody
Find Me by Romily Bernard
Cruel Beauty by Rosamund Hodge
My Life Next Door by Huntley Fitzpatrick
The Luxe Series by Anna Godbersen
I'm sure there are plenty more that I hope to get read this year.
To find out more information and/or Sign-up go
HERE
!
The goal is to read Fairytale Retellings.

My Goal:
Big Bad Wolf: 10-15 Books
Sign-ups close December 31st, so make sure to look at the information and sign-up
HERE
!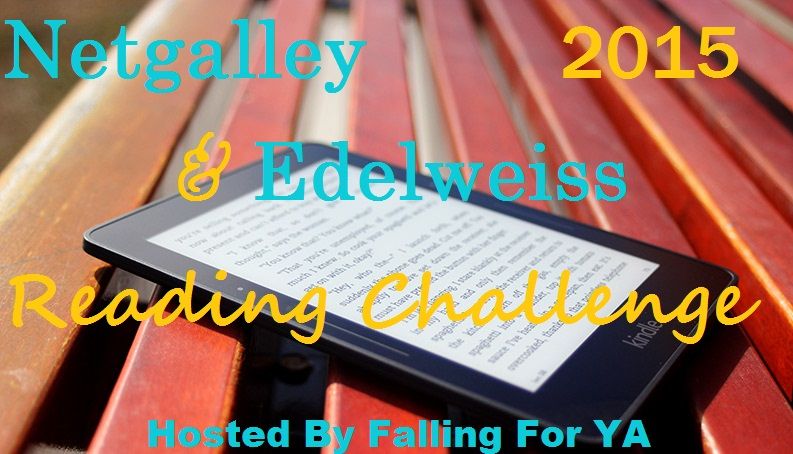 Have you ever logged on to Edelweiss or Netgalley with the intention of "Just Looking" and then logged off having requested 5 new titles even though your TBR is a mile long? This challenge will (hopefully) give you the incentive to tackle your review books, stumble upon new ones, and get your Netgalley percentage to the desired 80%!
My Goal:
Silver - 25 Books
Check HERE for more information and for sign-ups!
Hosted by Alexa Loves Books and Hello, Chelly
Challenge yourself to read a certain number of fantasy books
My Goal:
15 Fantasy Books
Hosted by So Obsessed With and Belle Of The Literati
Reread books!
My Goal:
20 books
The Books I Want to Reread in 2015:
Cinder by Marissa Meyer
Scarlet by Marissa Meyer
Cress by Marissa Meyer
Harry Potter and the Sorcerer's Stone by J.K. Rowling
Harry Potter and the Chamber of Secrets

by J.K. Rowling

Harry Potter and the Prisoner of Azkaban

by J.K. Rowling

Harry Potter and the Goblet of Fire

by J.K. Rowling

Harry Potter and the Order of the Phoenix

by J.K. Rowling

Harry Potter and the Half-Blood Prince

by J.K. Rowling

Harry Potter and the Deathly Hallows

by J.K. Rowling

The Hunger Games by Suzanne Collins
Catching Fire by

Suzanne Collins

Mockingjay by

Suzanne Collins

The Giver by Lois Lowry
Queen of Babble by Meg Cabot
Queen of Babble in the Big City

by Meg Cabot

Queen of Babble Gets Hitched

by Meg Cabot

Snow Like Ashes by Sara Raasch
The Raven Boys by Maggie Stiefvater
The Winner's Curse by Marie Rutkoski
The goal: To read as many prequels and sequels as you can. You set your goal at whatever number works for you.
My Goal:
25-50 points: Amateur
Whip your blog into shape!
For more information about this challenge and/or to Sign-Up, go HERE!
I probably shouldn't sign-up for any other challenges for next year, I think I will have my hands full with these ones.
Are you participating in these challenges next year? What other challenges have you signed up for? How many books are you aiming to read in 2015?