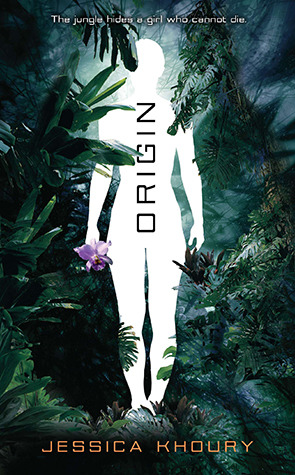 Title:
Origin
(Corpus #1)
Author: Jessica Khoury
Length: 394 pages
Publisher: Razorbill
Classification: Young Adult, Science Fiction
Release Date: September 4, 2012
Source: e-book
Read: January 2015
Pia has grown up in a secret laboratory hidden deep in the Amazon rain forest. She was raised by a team of scientists who have created her to be the start of a new immortal race. But on the night of her seventeenth birthday, Pia discovers a hole in the electric fence that surrounds her sterile home―and sneaks outside the compound for the first time in her life.
Free in the jungle, Pia meets Eio, a boy from a nearby village. Together, they embark on a race against time to discover the truth about Pia's origin―a truth with deadly consequences that will change their lives forever.


Origin

is a beautifully told, shocking new way to look at an age-old desire: to live forever, no matter the cost.
GoodReads
|
Amazon
|
Barnes & Noble
|
Books-a-Million
I read this book really quickly. I did not want to put it down, because I was really enjoying finding out what was going to happen next in this interesting and unique Sci-Fi world!
Pia has lived in a lab for her entire life. In fact she doesn't know much about the outside world at all. Though that hasn't stopped her from wondering what is behind the huge fence that surrounds her home. After finding a way out and exploring the Amazon forest, Pia discovers more than just life outside the lab. She gets tangled up in secrets and finding out the shocking truth behind her origin.
I was completely captivated by the story writing. There were some shocks that were a little intense, but it didn't keep me from wanting, NEEDING, to know what was going to happen next in this world and to these characters! This book is very enthralling, packed with action, scientific experiments, a cute romance, and chilling discoveries.
There were moments where my heart felt like it was racing with anticipation, and a couple times where it felt like it was breaking.
The characters are fascinating and I felt like they are easy to connect with.

I love Pia. She is a fantastic character. She knows what she wants and does what she can to achieve it. She is strong and loving. I really like that she was able to hold onto what she believes. So much happens to her in this story. Not only does she have to find out what it means to be different than other people, but she has to find out the truth about herself and the others on the island. I really felt for her as a character and found myself really caring about what was going to happen to her.

Eio is another interesting character. He is sweet and loyal. I really enjoyed reading about his life and the interactions between him and Pia.


The romance might feel a little instant, but for me, I didn't care that it happens quickly. The romance flows easily and did not feel forced at all. The romance is sweet and adorable. And it felt genuine to me. I really enjoyed reading about their blooming romance.
My Recommendation:
I really enjoyed reading this story. The world and characters are fascinating and there were some surprises and twists that I didn't see coming. If you enjoy Science Fiction books, then you may like this one.
My Rating:
_________________________________________________________________________
Title: Vitro
(Corpus #2)
Author: Jessica Khoury
Length: 384 pages
Publisher: Razorbill
Classification: Young Adult, Science Fiction
Release Date: January 14, 2014
Source: Harback
Read: January 2015
On Skin Island, even the laws of creation can be broken.




On a remote island in the Pacific, Corpus scientists have taken test tube embryos and given them life. These beings—the Vitros—have knowledge and abilities most humans can only dream of. But they also have one enormous flaw.




Sophie Crue is determined to get to Skin Island and find her mother, a scientist who left Sophie behind years ago. With the help of Jim Julien, a young charter pilot, she arrives--and discovers a terrifying secret she never imagined: she has a Vitro twin, Lux, who is the culmination of Corpus's dangerous research.




Now Sophie is torn between reuniting with the mother who betrayed her and protecting the genetically enhanced twin she never knew existed. But untangling the twisted strands of these relationships will have to wait, for Sophie and Jim are about to find out what happens when science stretches too far beyond its reach.
GoodReads
||
Amazon
||
Barnes & Noble
||
Books-a-Million
I read this book quickly too. It is a fast paced book full of action. In fact, I do think there was a little bit more action in this book than in the first book.
I think that this story is unique. I really like that it is a companion book. So fun to read a story with new characters but still takes place in the same universe as Origin.
Sophie is going to Skin Island one way or another. She needs to find out what has happened to her mother, a scientist that works on the island. With help from Jim, (an old childhood friend) she gets to the island and finds that things are not exactly what she thought they would be. There are a lot of secrets that Sophie must discover and shocking surprises that will change her life.
I enjoyed reading this story. Vitro is beautifully written. One of the things I like most about Jessica Khoury's writing is how descriptive she is. I find myself feeling like I can picture the places that the characters are.
Even though I enjoyed reading this book and I found the story to be fascinating, I didn't connect with characters very much. I did still care about the characters to a degree and I wanted to know what was going to happen. I just didn't become as consumed with the characters and the story as I did with Origin.
My Recommendation:
I didn't enjoy this one as much as the first book, but I still enjoyed parts of the story. I cared enough to want to find out what happens in the end. If you liked the first book and/or interesting Science Fiction stories, you may enjoy reading this one. I think my main issue was that I didn't connect with the characters as much as I would have liked.
My Rating: