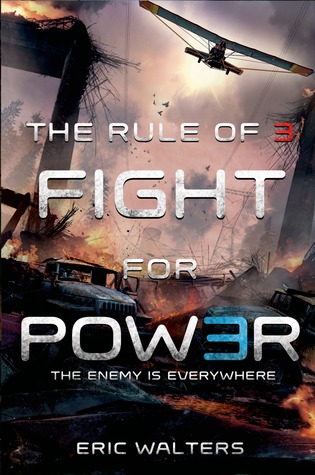 Title:
Fight for Power
(Rule of Three #2)
Author: Eric Walters
Length: 352 pages
Publisher: Farrar, Straus, Giroux Books for Young Readers
Classification: Young Adult, Survival
Release Date: January 20, 2015
Source: ARC via Twitter Giveaway
(Thank you Fierce Reads & MacTeen Books!)
Read: January 2015
The world keeps getting darker in this second reality-based survival adventure in the Rule of Three trilogy
After sixty-six days of a catastrophic global blackout, life in the suburbs is not what it used to be for Adam and his fortified neighborhood of Eden Mills. Although an explosive clash has minimized one threat from outside the walls, Adam's battle-hardened mentor, Herb, continues to make decisions in the name of security that are increasingly wrenching and questionable. Like his police chief mom and others, Adam will follow Herb's lead. But when the next threat comes from an unexpected direction, nobody is ready for it. And someone is going to pay the price—because of Adam's mistakes and mistaken trust.
GoodReads
|
Amazon
|
Barnes & Noble
|
Books-a-Million
***I received an ARC (Advanced Reader Copy) of this book from the publisher in exchange for an honest review***
***This is part of a series. There will be spoilers of things that happened in the other book(s) so if you haven't read
it and don't want to know things that happened, please stop reading now.***
I really enjoyed reading THE RULE OF THREE, so I was really excited to get to read an ARC of the second book FIGHT FOR POWER.
I did enjoy reading this one, but unfortunately I didn't like it as much as I liked reading the first book.
The story picks up right where THE RULE OF THREE ends. Pretty much exactly where it ends. Which I found interesting. I am not used to sequels picking up right where the previous book left off. And I like that it felt like I didn't miss anything. Adam, Herb, and all the other residents in the neighborhood are still trying to band together to protect each other and survive.
There were several things about this book that I liked, but there were other parts that felt a little repetitive and boring. But not boring enough to make me quit reading. I really liked the beginning of the story and felt like it was progressing at a good pace. Then things started to slow down in the middle of the book. Sure, there were events that happened that would pike my interest in the story, but overall, I didn't get hooked into what was happening until the last several chapters. There were some surprises that I didn't predict and now I am left wondering what will happen next.
I liked that the characters are trying to deal with other alternatives for surviving the blackout. Finding new ways to feed others. There are times during the story where I feel bad for the characters in the book. This would be a very difficult world to live in and things are quickly getting worse. It is scary. This book for me really captivates that fear and struggle at times.
Adam is about the same in this book. He is still trying to do the right thing for everyone. And he has some tough decisions to make. I like his growing friendship with Herb. As well as the growing developing relationship between him and Lori. These are the two relationships that I felt developed a bit more in this book. There were a few scenes with Todd and some with his mom and other members of the neighborhood. I definitely want to know what else is going to happen to Adam. Especially with that ending!
I did find this book to be a bit darker than the first one.

Overall, I enjoyed reading this book. It was pretty quick to read. Though I didn't like it as much as the first one. The ending really peaked my interest! I really want to find out what else will happen in the next book. If you have read THE RULE OF THREE, then I think that you should give this book a read, I might not have enjoyed every aspect of the book, but there were a couple surprises and the ending left me wanting to find out more.
My Rating: